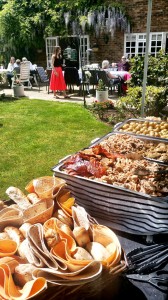 Hog Roast Plymouth is a truly great choice of caterers. We've spent years perfecting lovely dishes using fresh, locally-sourced ingredients and our professional, friendly team ensure great service and attention to detail each and every time. We know just how important the day of a party or event is for our customers and we're there every step of the way, helping to make it special and memorable for you and your guests. Our expertise, personal service and quality and taste of our food are the reasons why we have so much repeat custom, and why we get so many word of mouth recommendations, and that sets us apart from other catering companies.
It's Your Party, And We'll Serve What You Want Us To
The success of any event relies heavily on the standard of the food that you choose to serve. So why risk settling for anything but the very best?
Here at Hog Roast Plymouth, we are firm believers in the concept that no matter what occasion you are celebrating, you (and your guests!) deserve a meal that is nothing short of perfection. And so, we created a service that delivers exactly that! Think flawless flavours, convenient catering plans and friendly customer service all at an affordable cost.
But what really sets us apart from your average catering service is our flexibility. When you book with us, you maintain full control over your culinary experience; after all, it is your event.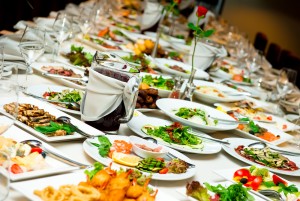 From the main course and how we serve it; to things like canapes, drinks service options and desserts, we allow you to refine even the smallest details of your catering plan, ensuring you receive a fully bespoke service from beginning to end. We also encourage our clients to take a good look at all of the individual dishes our set menus have to offer; giving you the chance to pick and mix from the expansive selection of foods and create a menu that's entirely personal to you, at no additional cost.
Being inclusive is also extremely important to us, which is why we offer vegetarian, vegan and gluten-free meals, along with a selection of different meat options for those who don't share our obsession for spit-roasted pork.
Whatever your ideal menu looks like, Hog Roast Plymouth will blow your guests away in just one bite with our flavourful recipes, which are unlike any you'll have tasted before. As the top of our league in what we do, our energetic catering team are always primed and ready to deliver an out-of-this-world banquet at your next event.
Expert Catering Leads To Lasting Memories
At Hog Roast Plymouth, our number one goal is to leave you with a positive lasting impression that will surpass your initial expectations and hopefully encourages you to return to us in the future.
We've spent a very long time perfecting our catering strategies, and today, we're confident that through a combination of our expert cooking abilities, approachable attitude and all-round service, we can provide a first-class service that you can be proud to include in your celebrations.
So, our promise to you is a simple one; that everyone attending your event will be well looked after and that every taste will be catered for in a professional manner. With our guarantee that none of your guests will feel left out, you can focus on making those all-important memories instead.